Welcome to "Share a Memory"
If you're looking for the radio repair as talked about on the Bob & Sheri show, hit the link below:
www.shareamemory.com/radio
Gift Certificates (Great for Baby Showers!)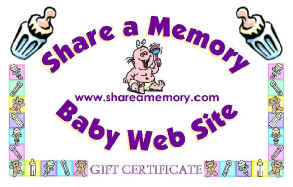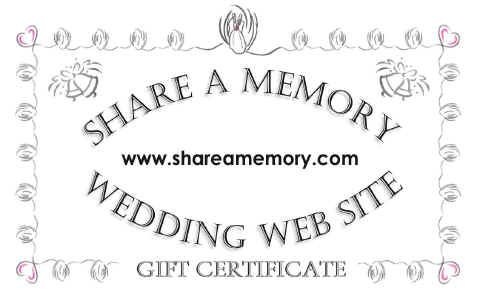 Not only will we do baby and wedding web sites, but we will also do graduations, parties, class reunions...you name it, we will have a web site for you to share.
DETAILS
There are several optional features that you may choose to include on your Web site. The item(s) you select will be a part of your Web site for the full three months. See the examples of these web sites.
Basic Web Site Package
- Home page with your photographs and personalized captions
- 8 photographs scanned/month with captions (16 if supplied electronically).
- Web site hosted on the Internet for 3 months
- Private internet address that can be given to family and friends
$79.95 each web site

E-Mail Link
If you have an e-mail address, and you would like visitors to be able to send you e-mail from your Web site, we will provide an active e-mail link at no extra charge.

Guest Book
A guest book allows visitors to your Web site to "sign in" and leave special messages for you. Guest book messages can be viewed by the other visitors to your Web site, making it a fun way for everybody to share special thoughts. Included in the basic package.

Hit Counter
The hit counter tells you how many visitors you've had visit your site. Included in the basic package.

Further Developments
Up to eight photographs are included for free, but you may include additional photographs. $4 each

Sound Clips
We can put a recorded sound clip (up to 30 seconds) on the Web site so that any guest who has a sound-enabled computer can hear. $15

Video
We can put a home video (up to 30 seconds) on the Web site. We will provide instructions to visitors for downloading and installing the software necessary to see the video. You can send us the video on either VHS, 8mm, or digital (JVC compatible format) tape. $25
If you have any of the items already in electronic format (for example pictures in jpg or gif format, sound clips in wav files, and/or video in avi files), you may be eligible for a discount of that item's listed price above.
We look forward to the opportunity to help you share a memory with family and friends around the world. You can order your Share a Memory web site directly from us. You may send us an email and we'll work with you to set up your web site.
Cheers,
Duane

Contact the Webmaster for comments on this web site.
Hit Counter:

This page was last updated on 10/17/06.
©2001-2002 Absolute Technologies